Green Township PTA

​

Every child. One voice.
Events
​
Oct 3 to 7 - Fall clothing drive
​
Oct 3 to 7 - Week of Respect
​
Oct 10 - Columbus Day, school
closed
​
Oct 12 - Last day to buy Penny
Auction tickets
​
Oct 12 - Executive Board meeting,
6:30 pm
​
Oct 14 - *SPIRIT DAY* Wear pink for
breast cancer awareness
​
Oct 19 - Board of Education
meeting, 7:30pm
​
Oct 21 - Penny Auction Family Fun
event, doors open at 5:30pm
​
Oct 31 - Halloween Parade for
grades K-5, time TBD
2016 - 2017 Executive Committee


​President: Jennie Eisenmenger 1st VP: Julie Willis
2nd VP: Sharon Mills Corresponding Secretary: Erin Fortunato
Treasurer: Kathy Argobright Recording Secretary​​​​​​: Nicol Vidal


​​​
​​​
​
PTA Highlights
The PTA is back in full swing!
The children are back to school, and the PTA is back in full swing
again. We voted on some new requests and we are happy to support: magazine requests; 7th and 8th grade language arts material; a listening station; the program Students to Science; and the Lego Robotics registration and challenge set. A request for Chromebooks was also noted and had been previously approved.

We have also seen the return of our regular programs, the book fair, the clothing drive and the Reflections contest. This year we are bringing back something we haven't had in awhile – the Penny Auction! Be sure to save the date for this fun event, Oct. 21. Tickets are on sale now and will only be sold until Oct. 12.​

To see the full October PTA newsletter, click here​​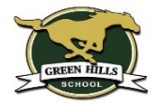 The Green Township PTA is very grateful for the support of our community. We are currently raising funds to build a new playground at the Green Hills School. Please donate today and help us build a place for fun and healthy play.